InfiniTime Online Hosted Solution
InfiniTime Online is a hosted workforce management solution. InfiniTime Online is one of the most powerful workforce management systems available! Your organization can streamline it's labor management via a securely hosted web application. Simply log into InfinITime Online from anywhere in the world to view timecards, schedule employees, edit timecards, manage leave requests, export to payroll and much more.
There is no software to install to use InfiniTime Online. A web connected browser is all that is required to access it's features. InfiniTime Online is hosted an Amazon AWS ©. By using Amazon's servers, InfiniTime Online provides a robust secure application for you and your team to use.
InfiniTime Online is built on the latest internet technolog y. With this technolog y the response times and security are the top of the line. By utilizing Amazon's servers, you don't have to worry about data corruption, performance degradation, backing up data, maintaining hardware, or upgrading software. All of this is handled automatically by our team of engineers. Our serves are constantly updated, backed up, and monitored to deliver a service you can truly rely on.
InfiniTime Online is billed based on the amount of active employees in your company. The billing can be adjusted at any time to make sure your company is getting the best way to manage your labor management costs.
InfiniTime Online also surpasses other hosted services by giving your team the option of adding mobile application capabilities, access control, biometric terminals, and badge reader terminals. You can monitor and configure the terminals directly from your InfiniTime Online management portal.
InfiniTime Online provides a robust toolset for companies large and small to manage their human capital. The latest data collection tools, calculation engine, reporting tools, and intuitive user interface makes it very easy to get information processed quickly and efficiently. Users find the integrated scheduling and leave management make sure that customers have a feature rich system that is integrated and works as one cohesive management system.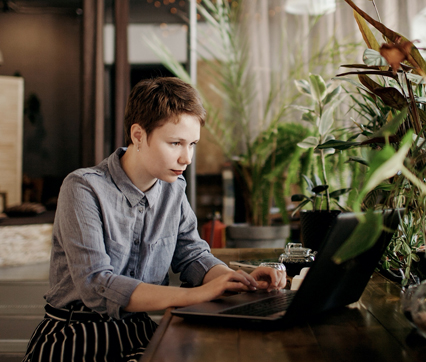 How it Works
Save time & money
The fastest database technolog y available
Eliminates manual calculation of hours
Updated with the latest support for changes in labor laws
Multitasking technolog y lets you work quicker
Stop unauthorized overtime
Integrated with popular payroll services to eliminate the duplication of data entry
Analysis
Records and summarizes lateness
Analyze non-worked time
Tracks benefit days
Unlimited accrual categories
Spots trends and patterns
Provides information for personnel files
Leave Management
Accrual Tracking
Detailed Accrual Reporting
Accrual Totals In Web Portal and Mobile App
Time Off Request From Web Portal and Mobile App
Manager Approval Of All Time Off Requests
Expandability
Not only does InfinITime Online free up your company's resources, it is expandable to add many ways for data collection (i.e. punching in and out).
Add biometric or badge readers at any time
Mobile application is available for Android © and Apple iPhone ©
Customizable user interface
Robust role-based security system
Technical Requirements
Internet access
Internet connection for hardware
Modern internet browser like Chrome© or Internet Explorer©
Features & Extras
Get up and running in minutes
Browser based application with the latest in internet technology
Manage employees from the comfort of home
No server hardware required
Significant gains in processing speed
Secure data backups made constantly
Free company resources with no software to install
Multitasking features to provide performance and ease of use
Works on slow connections
Secure internal messaging for communication
Robust scheduling features with electronic leave requests, shift swapping, and much more
Interactive timecard editor
Automatic software updates
Add mobile application, biometric terminals, and other data collection methods
Control
Workgroup scheduling
Internal messaging module
Eliminates employee time theft
Extensive reports
Implements grace periods
Reporting
Highly customizable reports
Ad-hoc reporting capabilities
Schedule reports to email to any email address needed
Hundreds of reports available
Scheduling
Graphic and Spreadsheet Style Schedule Editor
Schedule Template Capabilities For Fast Scheduling
Employee Schedule In Web Portal and Mobile App
Employee Editable Availability Through Web Portal and Mobile App
Employee Schedule Cover Feature, Employee Schedule Swap Feature, Employee Schedule Change Feature, and Manager Cover Request Feature
Employee Notification Of Schedule Change
More
E-mail reporting capability
Employee module
Standard "In/Out" board
Automatic daylight savings time corrections
Free automatic online updates